What is SpyFu?
SpyFu is a popular keyword research tool.
Since SpyFu has components for everyone looking to boost their organic traffic and sales, SpyFu is perfect for both hobby bloggers and professional bloggers.
In contrast to other tools that only enable you to find keywords you can potentially rank for, SpyFu also enables you to beat your competitors in the Search Engine Results Pages (SERPs.)
SpyFu's databanks are vast indexing over 6 billion results across 85 million domains.
SpyFu has both free and premium plans.
Why You Need SpyFu
SpyFu enables you to track your competitors to get their search traffic. Hence the name "SpyFu."
SpyFu is intuitive. It helps you without being asked for help!
Many keyword tools are so vague, it's hard to tell how difficult it will be to rank with those keywords, not SpyFu.
If you did want to spend money and bid on a keyword, SpyFu shows you how much it will cost you per click.
SpyFu keeps you organized! The tool gives you places to keep track of keywords as you search for them.
If you've ever wondered, "What keywords are my competitors using?" SpyFu will tell you.
SpyFu provides you with important metrics you need to make decisions.

SpyFu Tutorial
As I go through my SEO research for a post, this tutorial will take you step by step how to use Spyfu.
How to Use SpyFu for Competitive Analysis
Do you need to research your competition before you find your keywords? Yes!
Step 1: Go to https://www.spyfu.com/. Make an account.
Step 2: Enter a competitor's URL.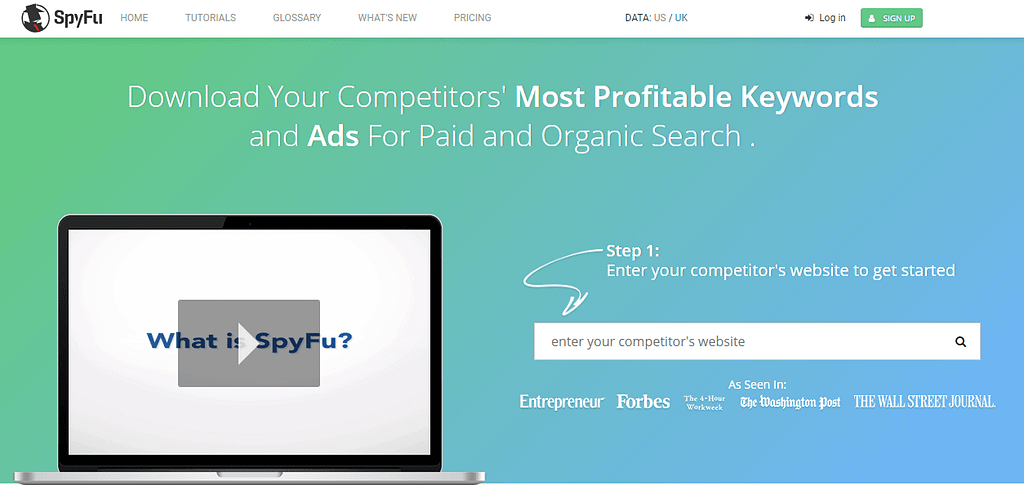 You may not know your competitors. In that case, type in your URL to find out.
For example, type "SuccessfulBlogging.com".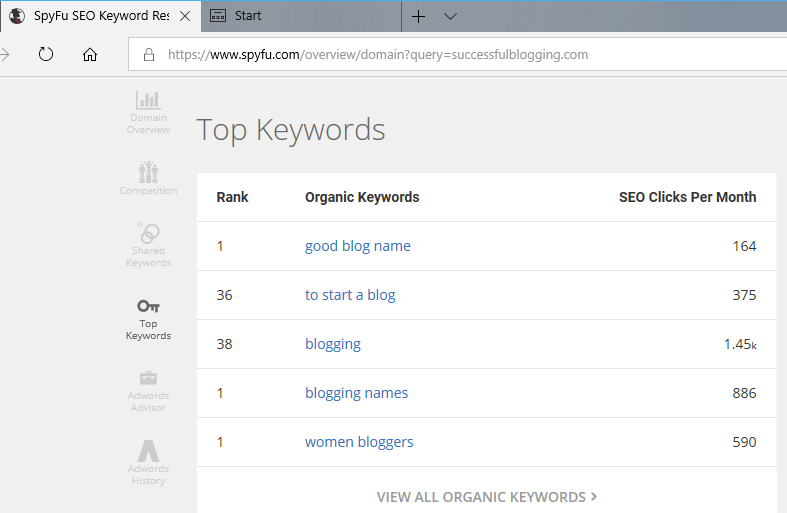 SpyFu shows the top 5 keywords of "SuccessfulBlogging.com".
How to Use SpyFu for Keyword Research
SpyFu's Keyword Research Tool makes your keyword research easy to do and the results easy to understand.

Look at all the choices you have when you do keyword research with SpyFu. Many SEO tools are at your disposal at this website.
Let's follow the steps as I do my keyword research:
I need to find a rankable keyword for an upcoming post about growth hacking using email forms.
Step 1: I click the Keyword Research tab and entered "email marketing forms."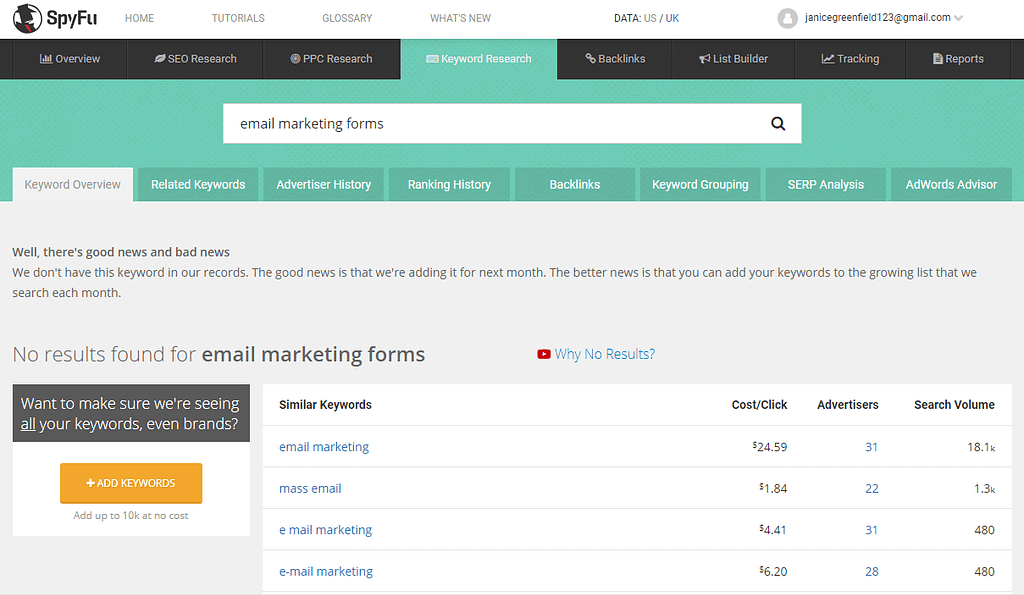 Look: SpyFu is intuitive! I searched for a keyword that was not in SpyFu's data. Without my clicking the "Related Keywords" tab, SpyFu showed me the related keywords it did have in its database.
With a premium account, you'll have far more keyword choices.
Step 2: Let's analyze my keyword choices:
If the cost per click is low, I know there is not a lot of competition on the internet. "Mass email" has the lowest Cost Per Click and a monthly search volume of over 1,000 per month. It looks like I found my keyword!
How to Use SpyFu to Make Sales
Step 1: Click the Keyword Research tab and enter your product or service. I entered "Blog Coaching."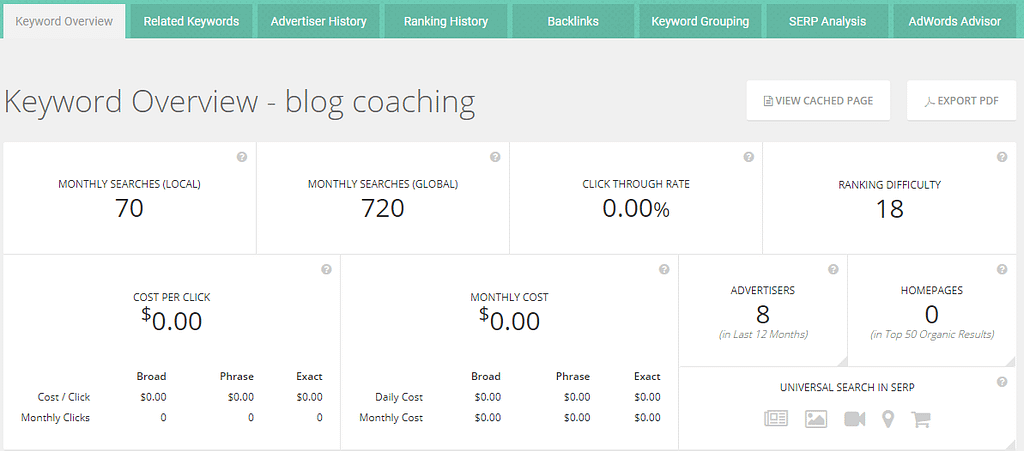 Look at the screenshot: Locally, there are only 70 searches per month. However, globally, there are over 720 searches for blog coaching.
18 is not a difficult ranking number. "Blog coaching" is so easy to rank for that cost per click is zero.
How to Use SpyFu to Beat Your Competitors and Make Sales
As you can see from the above screenshot, 8 other advertisers are also trying to rank for this keyword.
Let's find out what they're doing to advertise.
Step 1: Click Advertiser History

The free plan will show you 5 results. The premium plan will show you a great many results.
Here's the kicker:
LinkedIn, a website with a high Domain Authority ranking and a big budget, is advertising their coaching services.
Look at the first two entries. Do you see the gray bar? Hovering over the bar shows you the positions on the search engine results pages.
The first entry holds the first spot for my keyword, Blog Coaching.
Here's the best part:
You can actually read your competitors' ads! Isn't it fun spying on your competitors?
Who shall we pick?
Do you see the green boxes with the letter V that stands for the version of the ad? Look at the months at the top of the screenshot.
Jamie Smart is the ad we should check out and try to improve on.
User Experience:
Of course, this discussion about what search engine users will think is all rather simplistic. Other considerations matter.

For example, let's look at the additional considerations the red boxes suggest we need to consider. This screenshot analyzes the Search Engine Results Pages for the keyword "blog coaching."Box 1: Two of the entries have .edu in the domain name. Users are more likely to trust a government or educational agency than a .com blog.Box 2: You need your keyword in the name of your page or post and in the URL. If you have not written your Hire Me page yet, you can use SpyFu to provide you with a valuable checklist that could convert into sales.Box 3: Google prioritizes websites with strong Domain Authority ranking. Can you beat the domain strength of your competitors? If you don't know your Domain Authority Ranking, head over to Moz's Open Site Explorer and plugin your website URL. You don't need to concern yourself with wondering if you'll be able to make internet sales. Click SpyFu's SERP Analysis tab and let SpyFu figure these metrics out for you. 
How to Use SpyFu to Stay on Top of the Search Engine Results Pages
Sign in to SpyFu.
When you're asked for your competitor's URL, put in your own URL.
Click "Just Fell Off Page 1."
Update these posts.
Tell Google to rescan your posts:
Go to Google Search Console.
Click Search Console/URL Inspection.
Click URL inspection.
Paste the URL of the updated page where asked.
Give Search Console a few moments to submit your request.
SpyFu Pricing
Paid annual plans start at $33 month. 
Paid monthly plan start at $39.
For more Pricing details